Dolly Black contact lenses - power - ColourVue BigEyes (2 coloured lenses)
Add a solution: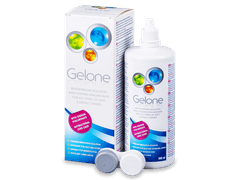 Gelone Solution 360 ml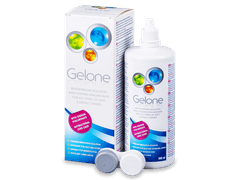 Gelone Solution 360 ml
AED 54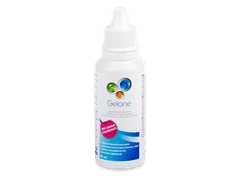 Gelone Solution 50 ml
AED 16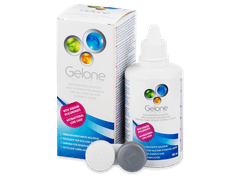 Gelone Solution 100 ml
AED 26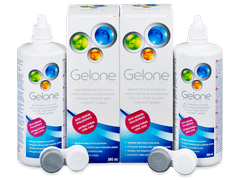 Gelone Solution 2 x 360 ml
AED 98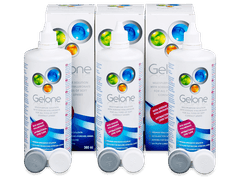 Gelone Solution 3 x 360 ml
AED 137
Free gift worth up to AED 32 for orders over AED 300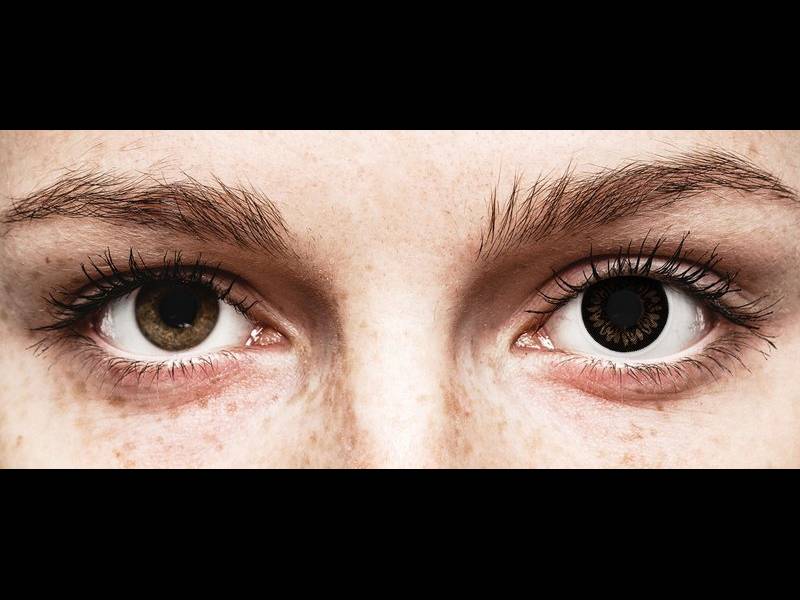 Replacement schedule and care
Quarterly lenses are durable lenses with a usability time-frame of 90 days. This type of lens is something you'll usually see among coloured lenses. They are very cost-effective but require a higher degree of maintenance and care. It's commonly assumed you won't be wearing them every day during their 90-day lifespan and that'll you'll carefully clean, disinfect, and store them. Note: do not use peroxide on coloured lenses.
Coloured lenses with correction
Dioptric lenses are lenses that have a power and are intended to correct your vision. Corrective lenses are typically prescribed by an ophthalmologist or an optometrist. The prescription consists of all the specifications necessary to make the lens. Prescriptions typically include the power specifications of each lens (for each eye). When ordering dioptric lenses, you will need to know your prescribed parameters.
About Maxvue Vision and their ColourVue line of lenses
Maxvue Vision is a global contact lens producer specialising in coloured and novelty contact lenses. It is dedicated to providing customers with unique lenses in a multitude of patterns and shades to fit each individual lifestyle and need. Their ColourVUE® branded contact lenses made this possible for millions of customers worldwide. Their products are manufactured in accordance with strict requirements using state-of-the-art manufacturing technology and materials.
About ColourVUE BigEyes
Manufactured by MaxVue Vision, ColourVUE Bigeyes are coloured contact lenses that visually enlarge the eyes, giving them a bigger and brighter doll-like appearance. They are designed with a ring that encircles the outer edge of the iris to add depth and dimension with naturally blending colours. These lenses have a 90-day replacement schedule and require proper care to ensure they stay healthy. The package contains two lenses suitable for either occasional or daily wear.
Properties
| | |
| --- | --- |
| Lenses colour: | Black |
| Manufacturer: | Maxvue Vision |
| BC: | 8.60 |
| DIA: | 14.00 |
| Pack size: | 2 lenses |
| Expiration: | 12 months and more |
| Oxygen permeability: | 22 Dk/t |
| Water content: | 42% |
| Replacement schedule: | 90 Days |
| Product name: | ColourVUE BigEyes |
| Power range: | from -6.00 to 0.00 |
| Lenses Material : | Hydrogel Terpolymer |
| Extended or overnight wear: | No |
| UV filter: | No |
| Medical Device: | Yes |
Reviews
40 of our customers recommend this product
Comments (1)
Do you have any questions?
Please update me when u have -0200 as eveytime i want to order is out of stock…thank u
Answer
Hello! Thank you for your comment. Unfortunately, we do not have these lenses with the power -2 on the stock and have no information from the manufacturer about possible delivery time. Meanwhile, you can check alternative lenses: https://www.alensa.ae/…oured-lenses Please, let us know if you have any other questions or concerns and we will be glad to help you! You can also contact us via email or chat.